Gouvernance éthique et création de la valeur sociétale : Cas d'intégration des femmes Africaines dans le top management
In order to improve their ethical behavior, companies are evaluated on the interactions they have with their stakeholders and their fair treatment in respecting internal codes of conduct and ethics. The inclusion of these non-financial factors in stock market evaluations encourages organizations to integrate the gender dimension into their ethical policies and to consider it as a source of value creation. The implementation of an ethical approach in favor of gender is the subject of this article in which we seek to establish the link between the ethical practices of companies and the presence of women in top management. With this in mind, we will first conduct an in-depth research in the literature review in order to better understand the relationship between ethical codes of conduct and the number of women present in high decision making spheres. Second, we conduct an empirical study, using statistical data published by the African Development Bank to verify this relationship.
Soucieuses de parfaire leurs comportements éthiques, les entreprises sont évaluées sur les interactions qu'elles ont avec leurs parties prenantes et leur traitement équitable en respectant les codes de déontologie interne et d'éthique. La prise en compte de ces facteurs non-financiers dans les évaluations boursières à inciter les organisations à intégrer la dimension genre dans leurs politiques éthiques et la considérer comme source de création de valeur. La mise en place d'une démarche éthique en faveur de genre constitue l'objet de cet article dans lequel nous cherchons à établir le lien entre les pratiques éthiques des entreprises et la présence des femmes dans le top management. Ceci étant, nous allons d'abord procéder à une recherche approfondie dans la revue de la littérature afin de mieux comprendre la relation entre les codes éthiques, de déontologie et le nombre des femmes présentes dans les sphères des hautes décisions. Ensuite, nous menons une étude empirique, en mobilisant les données statistiques publiées par la banque africaine du développement pour vérifier cette relation.
Fichier principal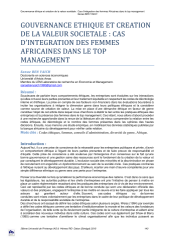 GOUVERNANCE ETHIQUE ET CR2ATION DE LA VALEUR1.pdf (703.15 Ko)
Télécharger le fichier
Origin : Files produced by the author(s)