La custodia del sentido. Una lectura de Nadie nada nunca
Until which point the literary difficulty can become a narrative project? Part of Juan José Saer's work, in particular its novel Nadie nada nunca, fulfils the need to protect the sense, that is to say, to border the interpretation and make it opaque. This search is the consequence of experimentation, of presentation of a political reality and of defence of obscurity as a writing value. Starting from this postulate, this article explores the tendency to hermeticism in Nadie nada nunca. Likewise, it develops a reading of Saer's essays to determine if a programmatic character of this hermetic postulate does exist. At last, a study of this tendency's limits in the novel is proposed, highlighting the tension between obscurity and clarity and showing the link between hermeticism and music.
¿Hasta qué punto la dificultad literaria puede convertirse en un proyecto narrativo? Parte de la obra de Juan José Saer, y en especial su novela Nadie nada nunca, responde a la necesidad de custodiar el sentido, es decir, de encapsular la interpretación y de opacarla. Esta búsqueda es la consecuencia de la experimentación, de la puesta en escena de una realidad política y de la defensa de la oscuridad como valor de la escritura. A partir de esta premisa, el artículo explora el acercamiento al hermetismo en Nadie nada nunca. Asimismo se hace una lectura de los ensayos para rastrear, si lo hay, un carácter programático de dicha postura hermética. Finalmente se estudia los límites de esta tendencia en la novela, haciendo hincapié en la tensión entre oscuridad y claridad, y mostrando la relación entre hermetismo y música.
Jusqu'à quel point la difficulté littéraire peut-elle devenir un projet narratif ? Une partie de l'œuvre de Juan José Saer, notamment son roman Nadie nada nunca, répond au besoin de protéger le sens, c'est-à-dire, de confiner l'interprétation et de l'opacifier. Cette recherche est la conséquence de l'expérimentation, de la mise en scène d'une réalité politique et de la défense de l'obscurité comme valeur d'écriture. Partant de ce postulat, cet article explore le penchant à l'hermétisme dans Nadie nada nunca. De même, il développe une lecture des essais de Saer pour déterminer s'il existe un caractère programmatique de ce postulat hermétique. Enfin, est proposée une étude des limites de cette tendance dans le roman, mettant l'accent sur la tension entre obscurité et clarté, et signalant le rapport entre hermétisme et musique.
Fichier principal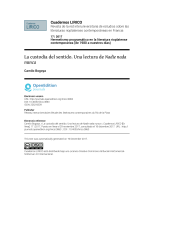 La custodia del sentido. Una lectura de Nadie nada nunca.pdf (280.23 Ko)
Télécharger le fichier
Origin : Publisher files allowed on an open archive