Article zéro et absence d'article dans le système anglais de la détermination nominale : approche psychomécanique
Linguistic theories in general, and psychomechanics in particular, with its essentially binary model, struggle to account for bare nouns within the larger system of the articles. Though the term 'zero article' is commonly found in the literature, there is hardly a consensus over its meaning. When dealing with French, where bare nouns remain marginal, one observes a fault line between one theoretical posture meaning to integrate it within the system of the article and another rejecting its existence altogether. In English, where bare nouns are much more frequent, the theory struggles with a multiplicity of different uses which are difficult to bring together under a single phenomenon. However, close inspection of the occurrences in the corpus makes it possible to suggest, in keeping with psychomechanics, a model where there is a coexistence of an absence of any determiner on the one hand and, on the other, a zero article which may be shown to signify a genuine operation of determination, defined as a transition of the noun from tongue to discourse resulting in its ability to refer.
Les théories linguistiques en général, et plus particulièrement la psychomécanique du langage, dont le modèle est essentiellement binaire, peinent à faire une place à l'absence de déterminant sémiologiquement marqué. Quoique le terme « article zéro » soit communément usité, il n'y a guère de consensus sur le sens à lui donner. Pour le français, où son emploi reste marginal, on observe une fracture entre une posture théorique consistant à l'intégrer au système de l'article et une autre revenant à en nier l'existence. Pour l'anglais, où il est beaucoup plus fréquent, la théorie se heurte à une multiplicité d'emplois difficiles à rassembler sous un même phénomène. Or un examen attentif des occurrences du corpus permet de proposer, dans la continuité de la théorie psychomécanique, un modèle où coexistent d'une part l'absence de tout déterminant et, d'autre part, un article zéro dont on peut montrer qu'il recouvre une véritable opération de détermination définie comme une transition du nom de la langue au discours débouchant sur son aptitude à référer.
Fichier principal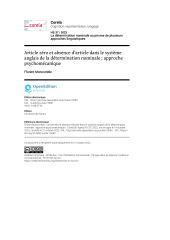 corela-15090.pdf (330.55 Ko)
Télécharger le fichier
Origin : Publisher files allowed on an open archive
Licence : CC BY NC ND - Attribution - NonCommercial - NoDerivatives