Quelle éthique pour quelle IA ?
This study proposes an analysis of the different types of ethical approaches involved in the ethics of AI, and situates their interests and limits. First, the author introduces to the contemporary need for and meaning of ethics. He distinguishes it from other registers of normativities and underlines its inadequacy to formalization. He then presents a cartography of the landscape of ethical theories covered by moral philosophy, taking care to distinguish meta-ethics, normative ethics and applied ethics. In drawing up this overview, the author questions the relationship between ethics and artificial intelligence. The analysis focuses in particular on the main ethical currents that have imposed themselves in the ways of doing digital ethics and AI in our Western democracies. The author asks whether these practices of ethics, as they seem to crystallize today in a precise pattern, constitute a sufficient and sufficiently satisfactory response to our needs for ethics in AI. The study concludes with a reflection on the reasons why a human ethics of AI based on a pragmatic practice of contextual ethics remains necessary and irreducible to any formalization or automated treatment of the ethical questions that arise for humans.
Cette étude propose une analyse des formes d'éthiques impliquées en éthique de l'IA, et en situe les intérêts et les limites. Dans un premier temps, l'auteur introduit au besoin contemporain et au sens de l'éthique. Il la distingue d'autres registres de normativités et en souligne le caractère impropre à la formalisation. Il présente ensuite une cartographie du paysage des théories éthiques que recouvre la philosophie morale, en prenant soin de distinguer la méta-éthique, l'éthique normative et l'éthique appliquée. En dressant ce panorama, l'auteur interroge les relations entre l'éthique et l'intelligence artificielle. L'analyse porte en particulier sur les grands courants de l'éthique qui se sont imposés dans les façons de faire de l'éthique du numérique et de l'IA dans nos démocraties occidentales. L'auteur se demande si ces pratiques, telles qu'elles semblent aujourd'hui cristallisées en une configuration précise, constituent une réponse suffisante et suffisamment satisfaisante à nos besoins d'éthique en matière d'IA. L'étude s'achève par une réflexion sur les raisons pour lesquelles une éthique humaine de l'IA, fondée dans une pratique pragmatiste de l'éthique en situation, reste nécessaire et irréductible à toute entreprise de formalisation ou de traitement automatisé des questions éthiques qui se posent aux humains.
Fichier principal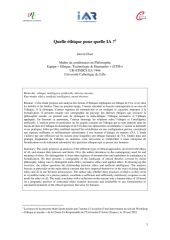 D. Doat_ Quelle éthique pour quelle IA_Intervention Chaire IA responsable_ 2023.pdf (448.46 Ko)
Télécharger le fichier
Origin : Files produced by the author(s)