Die Königstreue als Symptom des Midi : Überlegungen zur politischen Repräsentation im Zeitalter des Vormärz
Royalism as the Expression of Southern Pathologies : Reflections on French Political Representation during the Restoration
El monarquismo como revelador de las patologías meridionales : reflexiones acerca de la representación política francesa en tiempos de la Restauración
Le royalisme comme expression des pathologies méridionales : réflexions sur la représentation politique française à l'époque de la Restauration
Die Königstreue war im Süden Frankreichs sehr lebendig. Dies beweisen die - sogar in den Städten - außergewöhnlich guten Wahlergebnisse der rechten Parteien innerhalb der stimmberechtigten, wohlhabenden Elite in der Regierungszeit Ludwigs XVIII. und Karls X. Den Zeitgenossen sahen in diesen Wahlergebnisse Urgewalten am Werk, die an leidenschaftliche Debatten etwa aus der Zeit der Religionskriege erinnerten. Diese Zäsuren zersplitterten den Süden Frankreichs in eine Vielzahl kleiner Einheiten, die sich miteinander stritten. Die Besonderheiten der Wahlergebnisse im Midi können somit eine anthropologische und historische Erklärung finden. Und dennoch war die Königstreue auch der (manchmal nur zeitlich begrenzte) Ausdruck und eine Verteidigungsstrategie eines Südens, der wirtschaftlich immer mehr ins Hintertreffen geriet. Die Strategien der Städte waren jedoch recht unterschiedlich und trennen Toulouse von Marseille und Lyon von Bordeaux. Insgesamt kann man überall die Schwierigkeiten der so genannten "Pointus" erkennen. Die Wähler des Midi, sogar die sehr Königstreuen bleiben der Union der rechten Parteien treu ; vom Separatismus rechtsextremer Gruppen wollten sie eher nichts wissen. Auch in Südfrankreich kam es durch das Zensuswahlrecht nur bedingt zu Versuchen die Gesetze zu überschreiten, man wollte eher effizient sein.
The exceptional electoral results of the Right recorded in the South during the reigns of Louis XVIII and Charles X, including in urban areas, reflect the vigour of southern royalism at that time among the politically active elites. They gave the impression to contemporaries that they were seeing the expression of volcanic behaviour from the bottom of the ages, on which were grafted exacerbated passions since the Wars of Religion, fracturing the southern space into a multitude of local wars. To be complete for the understanding of electoral singularities, however, this dual anthropological and historical reading of votes needs to be supplemented and qualified by more modern socio-economic reasoning, which makes royalism one of the more or less transitory modes of defence against the economic decline of southern France ; this led to competing metropolitan strategies that distinguished Toulouse and Marseille from Lyon and Bordeaux. More generally, the difficulty of the "pointus" to take root shows that the southern voters, even "ultra", remained attached to the union of the right and resistant to the logic of extreme right-wing separatism : in the South too, the framework of property determined suffrage limited transgressions and made the concern for efficiency prevail.
Los resultados electorales excepcionales que obtuvo la derecha en el Midi bajo los reinados de Luis XVIII y Carlos X, incluso en las ciudades, revelan el empuje del monarquismo meridional en aquella época entre los élites censatorias. Dan a los contemporáneos la impresión de que se expresa así un comportamiento volcánico arraigado desde tiempo inmemorial al que se incorporan pasiones exacorbadas desde las Guerras de religión de modo que en el entorno meridional se dan cantidad de guerras locales. Con ser imprescindible para entender las peculiaridades electorales, esa doble lectura antropológica e histórica tiene sin embargo que completarse y matizarse con planteamientos socio-económicos más modernos que hacen del monarquismo uno de los modos de defensa, más o menos transitorio, contra el rebajamiento económico de la Francia del Midi lo que redunda en estrategias económicas competitivas que diferencian Tolosa y Marsella de Lyon y Burdeos. En un enfoque más global, las dificultades de los «pointus» en arraigarse muestra que los electores meridionales, hasta los «ultras», quedan muy apegados a la unión de las derechas y reacios a un separatismo de ultraderecha : en el Midi también el marco censatorio de los notables restringe las transgresiones y hace prevalecer el deseo de eficacia.
Les résultats électoraux exceptionnels de la droite enregistrés dans le Midi sous les règnes de Louis XVIII et de Charles X, y compris en milieu urbain, traduisent la vigueur du royalisme méridional à cette époque au sein des élites censitaires. Elles donnent aux contemporains l'impression de voir s'exprimer un comportement volcanique issu du fond des âges, sur lequel se greffent des passions exacerbées depuis les guerres de Religion, fracturant l'espace méridional en une multitude de guerres de clochers. Pour être essentielle à la compréhension des singularités électorales, cette double lecture anthropologique et historique des votes mérite toutefois d'être complétée et nuancée par des raisonnements socio-économiques plus modernes, qui font du royalisme l'un des modes de défense, plus ou moins transitoire, contre le déclassement économique de la France du Midi ; cela aboutit à des stratégies métropolitaines concurrentes, qui distinguent Toulouse et Marseille de Lyon et Bordeaux. Plus globalement, la difficulté des pointus à s'enraciner montre que les électeurs méridionaux, même «ultras», restent attachés à l'union des droites et rétifs aux logiques d'un séparatisme d'extrême-droite : dans le Midi aussi, le cadre censitaire des notables limite les transgressions et fait prévaloir le souci d'efficacité.
Fichier principal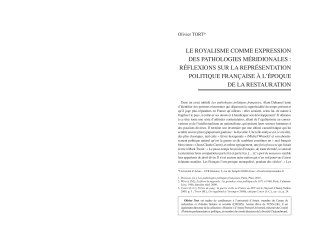 LE ROYALISME COMME EXPRESSION DES PATHOLOGIES MÉRIDIONALES - Olivier Tort.pdf (685.21 Ko)
Télécharger le fichier
Origin : Publisher files allowed on an open archive
Licence : Copyright